In face of the unfortunate present circumstances,  the Brazilian Academy of Sciences has decided to hold a virtual
BAS 2020 Magna Conference
, with the theme "The world post COVID-19". The goal of the meeting is to have a science-based debate on tackling the pandemic and on the challenges of the post-pandemic future, concerning health, social organization, economy, and environment. The difficult time calls for the scientific community to make itself heard and to provide society with science-based information and knowledge, essential to face this pandemic and the economic and social recovery of Brazil and the world. The meeting will be transmitted through the Academy's social media channels: Facebook, Instagram and Twitter
@abciencias
YouTube
@academiabrasciencias
DATES AND TIMETABLE
September 23rd | Wednesday | 4:30 - 6:00 pm (GMT-3)
September 25th| Friday | 4:00 - 8:00 pm (GMT-3)
September 29th | Tuesday | 4:00 - 8:00 pm (GMT-3)
October 2nd | Friday | 4:00 - 8:00 pm (GMT-3)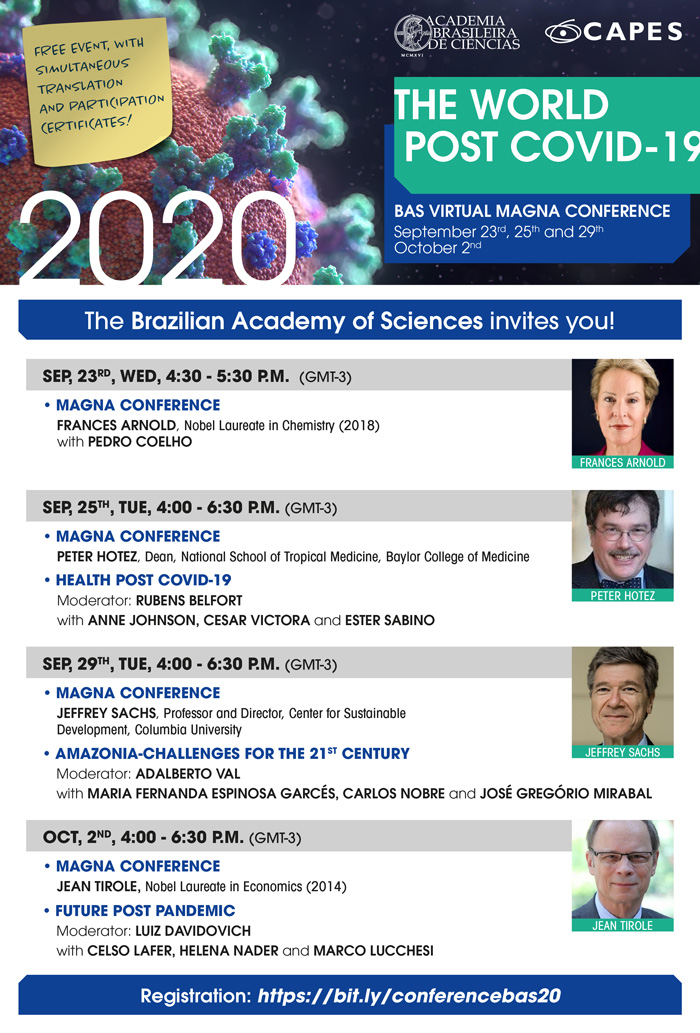 SEP 23 | WED | 4:30 p.m. (GMT-3)
---
FRANCES H. ARNOLD
| Opening Magna Conference
Evolution and sustainable chemistry for agriculture
Awarded with the 
Nobel Prize in Chemistry
2018 for pioneering the use of 
directed evolution
 to engineer 
enzymes
. She is Linus Pauling Professor of Chemical Engineering, Bioengineering and Biochemistry at the 
California Institute of Technology
 (Caltech). Arnold has a bachelor's degree in mechanical and 
aerospace engineering
 from 
Princeton University
 (1979) and a doctorate in 
chemical engineering
 from the 
University of California
 at Berkeley (1985). She spent a year as a postdoctoral fellow at Berkeley before arriving at Caltech as a visiting associate. She became an assistant professor in 1987, an associate professor in 1992, and a full professor in 1996.
PEDRO COELHO | Participation
Co-founder and Chief Executive Officer of Provivi, Inc, biotechnology startup founded in 2013 in Caltech, where he studied since 2008 and got his PhD. There he realized the potential of synthetic biology for chemical synthesis and joined the Arnold laboratory for his graduate studies, when he discovered and developed biocatalytic olefin cyclopropanation. His work was recognized with the Demetriades and the McCoy prizes for the best PhD thesis in biotechnology and chemistry, respectively.
---
 SEP 25th | FRI | 4:00-6:30 p.m (GMT-3)
---
PETER HOTEZ | Magna Conference
Preventing the Next Pandemic: Vaccine Diplomacy in a Time of Antiscience
Physician-scientist in neglected tropical diseases and vaccine development. Dean of the National School of Tropical Medicine and Professor of Pediatrics and Molecular Virology and Microbiology at Baylor College of Medicine, where he is also the Director of the Texas Children's Center for Vaccine Development (CVD). At CVD, he leads the only product development partnership for developing new vaccines for hookworm infection, schistosomiasis, Chagas disease, and SARS/MERS. He obtained his M.D. from Weil Cornell Medical College (1987) and Ph.D. Degree in biochemistry from Rockefeller University (1986). He is an elected member of the National Academy of Medicine. He has won the Abraham Horwitz Award for Excellence in Leadership in Inter-American Health by the Pan American Health Organization of the WHO (2011). He served as US Envoy on vaccine diplomacy initiatives with several countries (2014-16) and on the Board of Governors for the US Israel Binational Science Foundation (2018). He has led national efforts to defend vaccines against a growing national "antivaxx" threat.
---
HEALTH POST COVID-19
Moderator: Rubens Belfort, full member of BAC and president of the Brazilian Academy of Medicine (ANM)
---
ANNE JOHNSON
After the first COVID-19 wave: Challenges for health and society, a view from the UK
Professor of Infectious Disease Epidemiology at University College London (UCL) and Co-Director of
UCL Health of the Public
. After training in medicine in Cambridge and Newcastle, she specialised in Epidemiology and Public Health. She has worked in research in the epidemiology and prevention of HIV and sexually transmitted infections and other infectious diseases for over 35 years. She co-directed the Medical Research Council, UK Centre for Co-ordinating Epidemiological Studies of HIV and AIDS. She is a coinvestigator on
Virus Watch
, a major population study of Covid -19 transmission, and on
UCL I-Sense project
, developing novel diagnostics and pathways for infectious disease detection. She is a member of the
Royal Society DELVE Committee
, addressing responses to the COVID-19 pandemic. She has advised a number of national and international bodies. She was made Dame Commander of the British Empire in the 2013 Queen's Birthday Honours List.
CESAR VICTORA Epidemiology of Covid-19 In Brazil: what have we learnt in the past seven months?
Physician from the Federal University of Rio Grande do Sul (UFRGS), PhD in Epidemiology of Medical Assistance from the The London School of Hygiene & Tropical Medicine, University of London. Professor Emeritus of Epidemiology at the Federal University of Pelotas (UFPele). His main scientific contributions include documenting the importance of exclusive breastfeeding to prevent child mortality and the construction of child growth curves currently adopted in more than 140 countries. He is a Visiting Professor at Harvard, Oxford, and Johns Hopkins. He has advised the World Health Organization and UNICEF. He received several awards and distinctions from national and international institutions. Member of the Brazilian Academy of Sciences and the World Academy of Sciences (TWAS).
ESTER SABINO Epidemiology and genetic diversity of SARS-CoV-2 in Brazil
M.D and immunologist, she was part of the team that sequenced the genome of the new coronavirus. Professor in the Department of Infectious Diseases at USP Medical School. Principal investigator of NIH programs "Recipient Epidemiology and Donor Evaluation Study-IV pediatric" and "Sao Paulo-Minas Gerais Neglected Tropical Disease Research Center for Biomarker Discovery". Coordinator of the PITE FAPESP project "A translational study for the identification, characterization and validation of severity biomarkers in arboviral infections" and the FAPESP/MRC project "The Brazil-UK Center for Arbovirus Discovery, Diagnosis, Genomics and Epidemiology (CADDE)". Director of USP's Institute of Tropical Medicine from 2015 to 2019.
---
SEP 29 th |TUE | 4:00 p.m. (GMT-3)
---
JEFFREY SACHS

 

| Magna Conference
Professor and Director of the Center for Sustainable Development at Columbia University. Prior to joining Columbia, he spent over twenty years as a professor at Harvard University, where he studied and received his PhD in Economics. He is the president of the UN Sustainable Development Solutions Network, a commissioner of the UM Broadband Commission for Development. He is a world-renowned economics professor, bestselling author, innovative educator, and global leader in sustainable development. Sachs served as Special Advisor to UN Secretaries-General Kofi Annan, Ban Ki-moon, and António Guterres. He was the co-recipient of the 2015 Blue Planet Prize, the leading global prize for environmental leadership. He is widely recognized for bold and effective strategies to address complex challenges including debt crises, hyperinflations, the transition from central planning to market economies, the control of AIDS, malaria, and other diseases, the escape from extreme poverty, and the battle against human-induced climate change.
---
AMAZONIA - CHALLENGES FOR THE 21st CENTURY Moderator: Adalberto Val, Regional Vice-President of BAC to the North
---
MARIA FERNANDA ESPINOSA GARCÉS Leads to the Decolonization of the Amazon
Equatorian, she served as Minister of Foreign Affairs (twice), Minister of National Defence, and Coordinating Minister of Natural and Cultural Heritage. Garcés was Associate Professor and Researcher at the Facultad Latinoamericana de Ciencias Sociales, where she received her Master's degree. She also holds a Bachelor's degree in Applied Linguistics from the Pontificia Universidad Católica del Ecuador. She got scholarships and grants from the Ford Foundation, the Rockefeller Foundation, Natura Foundation and the German Agency for Cooperation to develop her research in the Amazon. For more than ten years, Garcés was Special Adviser to the President of the Constituent Assembly that drafted the Constitution of Ecuador in 2008 and Regional Director for South America and Adviser on Biodiversity at the International Union for Conservation of Nature, in Geneva, here she worked as Permanent Representative of her country to the United Nations. She has more than 20 years of multilateral experience in international negotiations, peace, security, defence, disarmament, human rights, indigenous peoples, gender equality, sustainable development, environment, biodiversity, climate change and multilateral cooperation.
CARLOS NOBRE Amazonia is close to the point of no return. The need for a new standing forest bioeconomy
He is the coordinator of the National Institute of Science and Technology for Climate Change and president of the Brazilian Panel on Climate Change. Nobre holds a degree in Electronic Engineering from the Technological Institute of Aeronautics (ITA, Brazil) and a PhD degree in Meteorology from the Massachusetts Institute of Technology (MIT). He was the general coordinator of the Center for Weather Forecast and Climate Studies of the National Institute for Space Research (CPTEC/INPE, Brazil). He is a retired researcher of the National Institute of Amazon Researches (INPA). Nobre was a member of the UN Secretary General's High Level Scientific Advisory Panel on Global Sustainability. He participated in several reports of the Intergovernmental Panel on Climate Change (IPCC). In particular, he was one of the authors of the Fourth Assessment Report of the IPCC, awarded with the Nobel Peace Prize (2007). Nobre is a full member of the Brazilian Academy of Sciences (ABC), the World Academy of Sciences (TWAS) and a foreign member of the National Academy of Science (NAS).
JOSÉ GREGÓRIO MIRABAL
He is the general coordinator of the Coordination of Indigenous Organizations in the Amazon Basin (COICA), which brings together indigenous organizations from the nine countries of the Amazon region. According to COICA, it represents 511 indigenous communities living in the Amazon and protects 66 uncontacted or voluntarily isolated tribes. Previously, Mirabal coordinated the Regional Organization of Indigenous Peoples of the Amazonas state (ORPIA), one of the entities that make up COICA. Mirabal was one of the indigenous representatives who participated in the 2019 Synod of Bishops at the Vatican, in Rome, with Pope Francis. At the important event, discussions were focused on solutions to the ecological and social problems in the Amazon.
---
OCT, 2nd | FRI | 4:00 p.m.
---
JEAN TIROLE | Magna Conference
Economics and the Common Good after Covid
He is Nobel Laureate2014 in Economic Sciences. Tirole is honorary chairman of the Foundation JJ Laffont-Toulouse School of Economics (TSE), and scientific director of TSE-Partnership. He is a Visiting Professor at the Massachussets Institute of Technology (MIT), as at the Ecole des Hautes Etudes en Sciences Sociales, and the Institut de France. Professor Tirole's research covers industrial organization, regulation, finance, macroeconomics and banking, and psychology-based economics. He is laureate of numerous international distinctions, including the 2007 CNRS Gold Medal.
---
FUTURE POST PANDEMIC Moderator: Luiz Davidovich, BAC President
---
CELSO LAFER The world of international relations post pandemic and the challenges of Brazilian diplomacy
He was Minister of State of Foreign Affairs in 1992. Lafer obtained his degree in Public International Law from the University of São Paulo (USP), and attended a master's and doctorate in political science at Cornell University, in the USA. At USP, he was professor of Philosophy of Law (1988-2011), when he retired. He is Doctor
Honoris Causa
of several universities around the world. He is Chair of the Board of the Lasar Segall Museum and is the President of the Ema G. Klabin Cultural Foundation. He is also President of the Deliberative Council of Brazilian-Israeli Union of Social Welfare and President of the Advisory Council of Hospital Israelita Albert Einstein. Lafer was president of the São Paulo State Research Support Foundation (Fapesp, 2007-2015). As an Ambassador, he was the Head of the Permanent Mission of Brazil to the United Nations and the World Trade Organization in Geneva. He has been a member of the Haia Permanent Court of Arbitration since 2002. He received several awards and honors, including the Jabuti Award in 1989 and the APCA Award in 2013 and the Moinho Santista award from the Bunge Foundation in the International Relations area. He is a full member of the Brazilian Academy of Sciences and of the Brazilian Academy of Letters.
HELENA B. 
NA
DER
The future of health: a global approach
She is currently vice president of the Brazilian Academy of Sciences and co-president of the InterAmerican Network of Academies of Sciences (IANAS, 2019-2021). She is a full professor at the Federal University of São Paulo (Unifesp), from where she holds a bachelor's degree in Biomedical Sciences. She holds another degree in Biology from the University of São Paulo, a PhD in Molecular Biology from Unifesp, a post-doctorate from the University of Southern California with a scholarship from Fogarty (NIH). Her work involves glycochemistry and glycobiology, focusing on the study of the structure and biological function of proteoglycans, especially heparin and heparate sulfate, with special emphasis on the role of these compounds in hemostasis, in the control of cell division and in cell transformation. She was Visiting Professor in many universities in the EUA and Italy. Nader worked also as academic manager in several universities and fund agencies. She is member of many Councils and Editorial Boards of several nationa and international scientific journals. She received several honors such as the National Order of Scientific Merit; class Comendador and Grand Cross; Classics in Cell Biology, Brazilian Society of Cell Biology (SBBC); Science Service Award, Federation of Experimental Biology Societies, FESBE; the National Order of Educational Merit, class Grand Master, among others. She is a full member of the Academy of Sciences of São Paulo, of the Academy of Sciences of Latin America (ACAL) and of the World Academy of Science (TWAS). Nader is the Honorary President of the Brazilian Society for the Progress of Science (SBPC), which he chaired for nine years.
MARCO LUCCHESI Culture: a project for unity
He is currently the President of the Brazilian Academy of Letters (ABL) and Full Professor of Comparative Literature at the Federal University of Rio de Janeiro (UFRJ). He graduated in History from the Federal Fluminense University (UFF); received the titles of Master and Doctor in Science of Literature from UFRJ. He holds a Post-Doctorate in Philosophy of Renaissance from the University of Cologne, in Germany. He was Visiting Professor at Fiocruz and at several univerities in Europe and Latin America. Lucchesi received the titles of Doctor
Honoris Causa
from Tibiscus University, in Timisoara, (2016) and from Aurel Vlaicu University of Arad, both in Romania. His performance in defense of human rights is notorious, as is his constant presence in communities and prisons in Rio, through literary and educational projects. He gave lectures in Brazil and in several universities around the world. He also stood out within the General Library Research and Publishing Coordination sector and was a member of the National Council for Cultural Policy of the Ministry of Culture. He is part of several institutions, such as the Lisbon Science Academy; Brazilian Historical and Geographic Institute; Accademia Lucchese di Scienze, Lettere e Arti; Academia Paraguaya de la Lengua Española; Brazilian Society of Geography; among many others. He is a columnist for several newspapers and magazines. He was responsible for the great exhibition "National Library 200 years: a defense of the infinite", curator of the exhibition: "Rio de Janeiro 450 years, a History of the Future" and with the exhibition: Soul of the World : Leonardo 500 years.